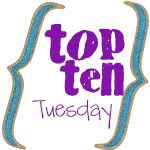 This is my first time doing a Top Ten Tuesday, hopefully I can find ten foodie things to put on my list.
01. Need to figure out what to do with the leftover chicken for dinner. The last couple times we had roast chicken I made a pot pie with the left overs and I don't want to do that every week.
02. Need to figure out what fun foods to serve at Miss V's Halloween party this weekend. Going to be a bit more difficult since fridge space is very limited. Our kitchen fridge died yesterday and we moved the garage fridge into the kitchen. It is a much smaller fridge, but at least we have one!
03. I found the perfect Frankenstein cupcakes to make and Miss V loves them.
04. Need to hit the grocery store tomorrow, I am making desserts for Miss V's Harvest Party at school.
05. I am going to make Pumpkin Crunch Parfaits for Miss V's class party.
06. I think I might make some cookies too for her party.
07. Need to find a good gruesome drink for Miss V's Halloween party, have any ideas???
08. Must take a picture of the Chocolate Banana bread that just came out of the oven when it cools off.
09. I also need to make a menu plan for the rest of the week.
10. I have some left over pumpkin that needs to be baked into some yummy treats, off to scour the internet.