So this morning on my Facebook News Feed
this
recipe popped up from FoodBlogs. I knew I had to make some TODAY! They are so cute!!! I did have to change a couple things from the original recipe. I did not have orange juice or zest. So I subbed clear vanilla extract and lemon extract since that is a favorite flavor of Miss V's.
1 cup unsalted butter at room temperature
1 cup sugar
1 egg
1 tsp clear vanilla extract
1 tsp lemon extract
1/8 teaspoon salt
3 cups all purpose flour
1/2 teaspoon baking soda
orange gel food coloring
lemon yellow gel food coloring
Sanding Sugar
Cream butter and sugar. Add egg and extracts. Mix well. Sift together flour, salt and baking soda in a separate bowl. Add to they wet ingredients.
Divide dough into 3 equal parts. Add orange food coloring to the first part and blend well.
Add the lemon yellow food coloring to the second part and thoroughly blend. Use plenty of food color gel. You want to have nice bright colors. They do fade a bit in the baking process. Leave the third part plain.
Line a loaf pan with parchment paper. (I ran out of parchment and had to use plastic wrap. It is a bit harder to get out.) My glass loaf pan is 8.5 inches. Press the yellow dough evenly onto the bottom of the pan. Then you will press the orange dough evenly over the yellow dough, and press the plain dough on top. Wrap the parchment paper over the dough and refrigerate for a few hours. I made the dough around 9:30ish. And baked them at 4:00 pm.
Preheat your oven to 375.
When you are ready to slice and bake the cookies. Remove the dough from the loaf pan and remove plastic wrap or parchment. With a sharp knife cut the dough into 1/4 inch slices. Then cut into triangles. Then put onto an ungreased baking sheet. Miss V then sprinkled the sanding sugar on the cookies.
Bake cookies for approximately 8 minutes, be very careful no to over bake them.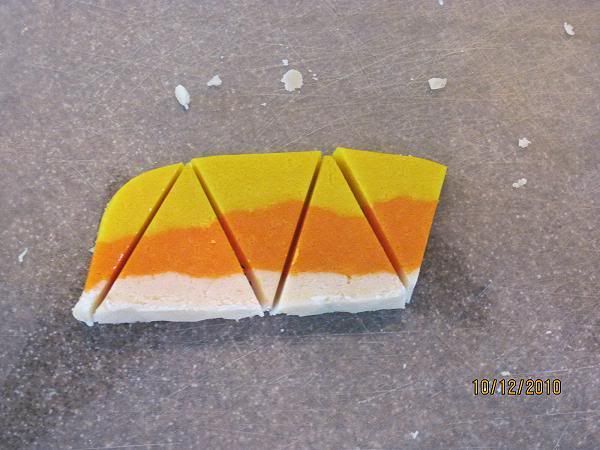 Blogger is having an issue uploading pictures, so I needed to upload them to photobucket. Hopefully you can still view them.