A few weeks ago I received an email with a recipe for Bunny cupcakes. So I decided to make them for an impromptu Easter Egg hunt.
Here is the recipe:
RECIPE INGREDIENTS:
A cupcake (baked from your favorite recipe)
White icing
Shredded coconut
Pink decorators' sugar
Jelly bean nose
Chewable Sweet Tart eyes
Large marshmallow
Mini marshmallows
1. Frost a cupcake (baked from your favorite recipe) with white icing and sprinkle on shredded coconut fur.
2. Cut a large marshmallow in half widthwise. Squeeze each half slightly to give it an oval shape, then decorate the sticky side of each one with pink decorators' sugar and set them in place for ears.
3. Add a jelly bean nose and either jelly bean or snipped Sweet Tart eyes, and mini marshmallows for cheeks. For a finishing touch, draw on decorators' gel pupils or whiskers if you like.
Here are some things that I changed:
For the eyes I used M&M's and black decorating gel
For the nose, I cut a pink jelly bean in half and used 1/2 per Bunny
For the cheeks, I jut one mini marshmellow in half and used one mini marshmellow per Bunny. Using two whole mini marshmellows, well they kept tipping over.
For the whiskers, I used Twizzlers pull and peel.
Now my issue with the ears, Walmart brand marshmellows are horrid! Way to sticky and mushy! I do not like how the ears came out at all. Way to much marshmellow. Next time I am sticking with Jet Puffed and I am going to slice them the way I do the
Flower Petal Cupcakes
.
Next my issue with the coconut I am going to SKIP IT!! One reason using the coconut makes everything else fall off. I had to use extra frosting to keep things stuck on. Another reason to skip it, some kids just don't like coconut. I will just use a piping bag and a
Wilton tip No. 233 Multi-Opening Decorating Tip
.
So finally here are some pictures, they did turn out very cute.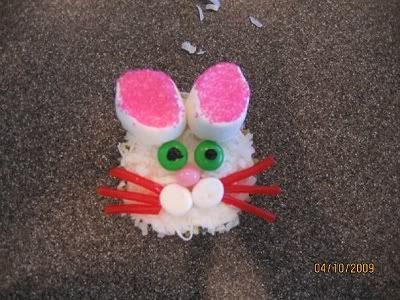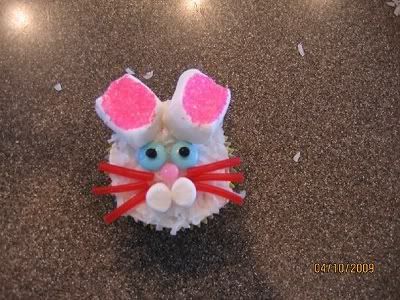 I made six green eyed bunnies, six blue eyed bunnies and a dozen flowers.