Courtesy of Breadworld
One dozen bagels
1 1/4 cup warm water
2 1/2 tsp salt
4 to 4 1/2 cups bread flour
1 tbs sugar
2 1/2 tsp Bread Machine Yeast
Directions
Measure water, salt, flour, sugar and yeast into bread machine pan in the order suggested by manufacturer.
Process in dough/manual cycle. When cycle is complete, remove dough to lightly floured surface. If necessary, knead in enough flour to make moderately stiff dough.
Divide dough into 6 (9, 12, as desired) pieces; shape into small balls. With a floured finger, poke a 1-1/2-inch hole in each ball. Place shaped bagels on greased baking sheet; cover with plastic wrap and refrigerate 4 to 24 hours.
Remove from refrigerator and allow shaped dough to warm to room temperature, about 30 minutes.
In a deep pan, heat 2 quarts water over medium heat to a simmer. Add 1 tablespoon sugar and 2 teaspoons salt. Drop bagels into simmering water. Cook 1/2 minute, turn and cook another 1/2 minute.
Drain on paper towels.
Set bagels on a greased baking sheet. Mix egg white and 1 tablespoon water, brush on bagels.
Sprinkle with coarse salt, sesame, caraway or poppy seed if desired.
Bake at 425oF for 25 to 30 minutes. Remove from sheets. Cool on wire rack.
PICTURES: (they aren't very pretty, but they are YUMMY!!!)
Dough is all done.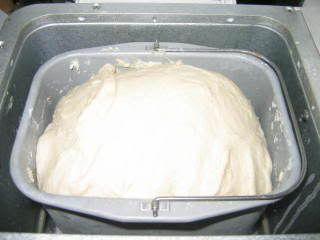 Ready to be portioned out into 12 bagels
All portioned out and holes poked in them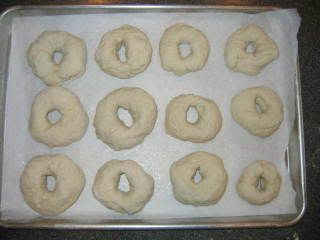 After a nice rest in the fridge (about 5 hours)
In the meantime, I toasted up some sesame seeds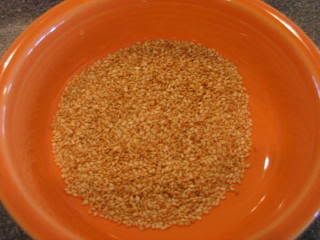 Time for their quick dunk in the water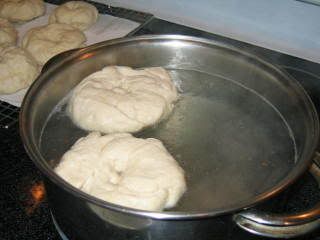 Egg washed and sesame seeds added
Fresh from the oven, I did bake them for almost 30 minutes, I like my bagels nice and brown and very crispy on the outside.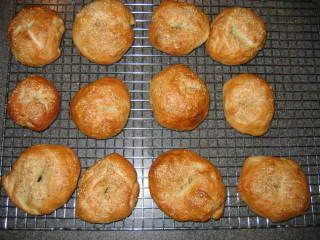 Not very pretty, but they are really yummy!!