Monkey Bread with frozen bread dough
2 (1 pound) loaves of frozen white bread dough
1 cup sugar
1/4 brown sugar
1/4 cup 2% milk
1 tbs butter
1 1/4 tsp cinnamon
1/4 cup sugar
1/2 tsp cinnamon
Cooking spray
Thaw dough in the fridge for 12 hours or overnight.
Combine 1 cup sugar and the next four ingredients in a small saucepan; bring to boil and cook for 1 minute. Remove sugar syrup from heat and allow to cool for 10 minutes.
Cut each loaf into 24 equal pieces (I think I cut them smaller).
Combine 1/4 cup sugar and 1/2 tsp cinnamon in a shallow dish. Roll each piece of dough then layer dough in a bundt pan coated with cooking spray. I also added some pecans.
Pour sugar syrup over dough; cover and let rise in a warm place for 35 minutes or until doubled in size.
Place on cookie sheet (to catch drips). Cook uncovered at 350 for 25 minutes or until lightly browned.
Immediately place a serving plate upside down on the top of the pan and invert bread onto the plate.
Remove the pan and drizzle any remaining syrup over the bread.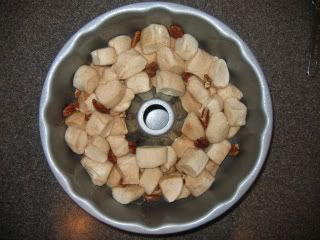 Oh since it is Valentines day, I added some festive sprinkles.