Baked Sesame Chicken
2 tbs soy sauce
1/4 cup toasted sesame seeds
2 tbs all purpose flour
1/4 tsp sea salt
1/4 tsp cracked black pepper
4 boneless skinless chicken (I used 3 and cut them in half)
2 tbs unsalted butter, melted
Preheat oven to 400
Place soy sauce in a dish. On a place, mix together the sesame seeds, flour, salt and pepper. Dip the chicken pieces in the soy sauce to coat, then dredge in the sesame seed mixture. Arrange in a baking dish, then drizzle with melted butter.
Bake for approximately 30 minutes or until chicken is done and juice run clear.
Baste with drippings once during the cooking time.
Sesame seeds before toasting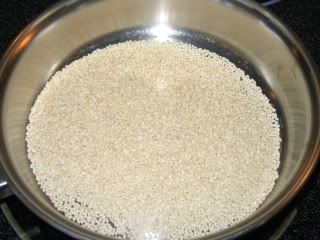 Nice and toasted to a light brown
Ready to go in the oven
All done and ready for dinner later, smells good!