I am now resorting to making this at home, since our absolutely favorite pizza place closed.
1 large Cucumber, chopped
2 Roma (plum) Tomatoes, chopped
1 (5 ounces) jar pitted Kalamata Olives
1 (4 ounces) package Feta Cheese, crumbled
1 Red Onion, halved and thinly sliced
2 heads pf Romaine Lettuce Leaves chopped
1/2 (10 ounces) package Baby Greens or Spring Mix Salad
5 or 6 Pepperoncini
Layer the lettuces, cucumber, onion, tomato, cheese on a large plate or platter. Sprinkle with some dried oregano. Then place the olives and pepperonchini around the edges.
I also have whole wheat pitas to cut into pieces.
And of course the dressing, I love this one from Kraft.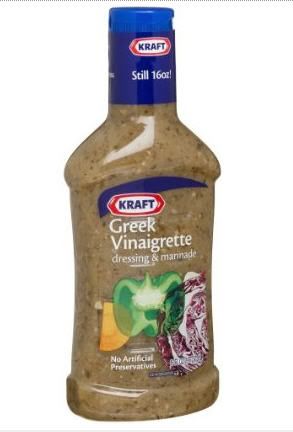 For your viewing pleasure, pictures of my wonderful greek salad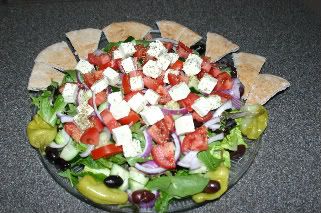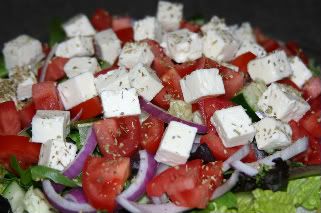 Sharing this recipe here:
Seaside Simplicity: Wanted Salads