Crock Pot Chicken and Dumplings
1 1/2 pounds boneless skinless chicken breast, cut into 1 inch pieces
2 Yukon gold potatoes
2 cups whole baby carrots
2 celery stalks sliced
2 cans condensed cream of chicken soup
1 cup of water (I will use chicken stock)
1 tsp thyme
1/4 tsp ground black pepper
2 cups Bisquick Baking Mix
2/3 cup milk
Place the chicken, potatoes, carrots and celery in the crock pot.
Stir the soup, stock, thyme and pepper in a small bowl. Pour the soup mixture over the chicken and vegetables.
Cover and cook on low for 7 to 8 hours or until the chicken is no longer pink.
Stir the Bisquick and milk in a medium bow. Spoon the batter over the chicken mixture. Turn heat to high. Tilt the lid to vent and cook for 30 minutes or until the dumplings are cooked in the center.
Serve with spinach salad; baby spinach leaves topped with orange sections, dried cranberries, and raspberry pecan vinaigrette.
BTW! When I say I sub stock for water or broth, this is what I use.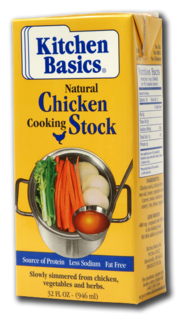 I have tried other stock in a box, and have found
this one
to be far superior!!