Burgers are on the menu tonight. But not plain old burgers!
I love putting a tablespoon or so of this seasoning.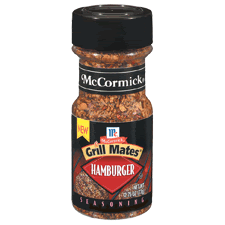 My burgers also have thick cut bacon, swiss cheese and sauted onions and must be on whole wheat buns.
I also have some yummy summer squash and zucchini to steam up. I think I might bake up some chocolate chip cookies too.
Oh and I found the best way to cook the bacon is to put the slices on a broiler pan and bake in the oven at 375 until done, less mess!