Since I shared one of Miss V's favorite things today, I should share a couple of my newest favs.
First of is Passion Fruit Yogurt, yum! It has some serious flavor!!!

While on vacation our friends had a new juice by minute maid (Pomegranate Blueberry). I am not a big juice drinker but this was really good. I even added some club soda for fizz.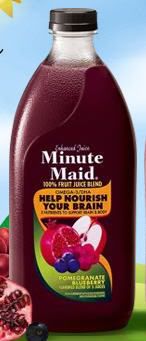 When we got back and went grocery shopping we found it and they have Pomegranate Lemonade too. Of course we had to try that and it was really good, not to tart/twangy.

Enjoy our newest food finds!